Secret levels - Development Hell
Development Hell is a secret area which can be found in the Forsaken Cemetery in Act I. The monsters of this dungeon contains monsters that are named after the Diablo 3 staff and development team. Diablo 3's Game Director, Jay Wilson is the dungeon boss as an elite monster in this area and killing him gives you the secret Feat of Strength achievement called Smash! Jay, Smash! and a new banner sigil.

To get there you must finish the game on normal difficulty. Set the game difficulty to Nightmare or higher and choose the quest "A Shattered Crown" in Act I. Go to the Forsaken Cemetery and search for the crypts but don't go in. Development Hell will randomly appear as the 4th crypt. If its not there, create a new game. The chance of spawn is about 2-3% so don't give up after a few tries!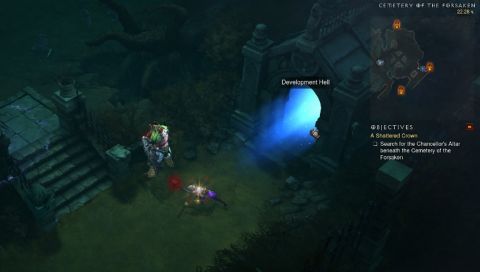 Back to Wiki