MuleFactory's Player Auction Wizard v3 is now available which leads you through the ordering process and also ensures safe delivery in FIFA 18. If you are feeling stuck follow our guide to have your cards listed properly.
With this reworked system you will now get back the 5% Transfer fee and the minimum value of your card, while keeping your account safe by avoiding suspicious trades.
First step is to put the desired amount of coins to your shopping cart and hit the checkout button on the right side of the upper menu. You will be redirected to the page with the Player Auction Wizard and you can start adding your cards. At this point you can add the cards first and then list them to the Transfer Market. Our Player Auction Wizard v3 will suggest a buyout price for your card which is not recommended to override to keep the security of your account on the highest. Make sure to put the card to the market for 3 days duration with its original position. Once you added the card to the Wizard, list it to the Transfer Market. Usage of Gold and Special cards ensures the safest delivery so we highly recommend to use those. The picture below is an accurate demonstration of the steps.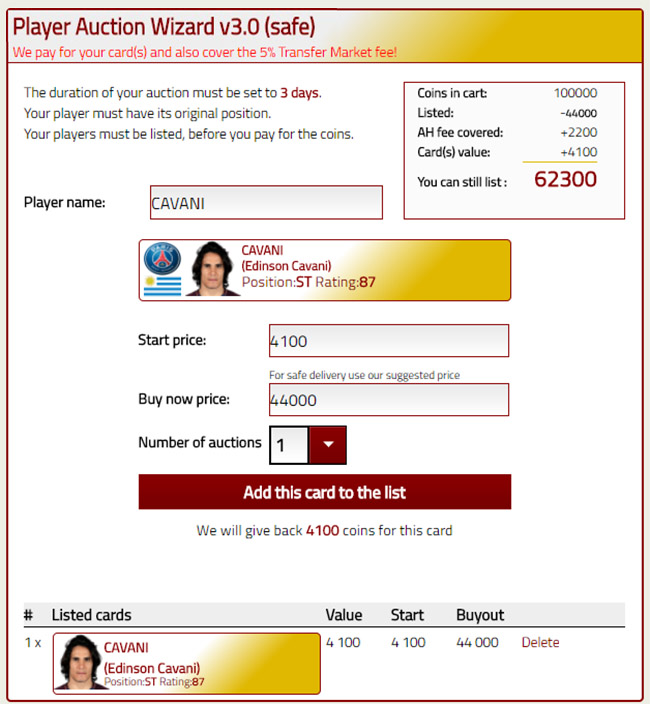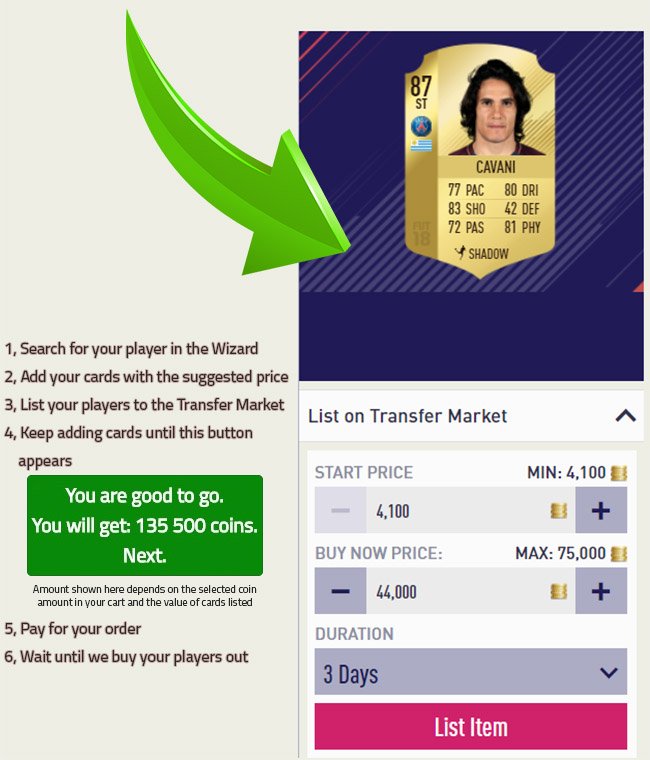 Keep listing additional cards as long as you are about to reach the amount of coins you've put to your cart.

There is a calculation on the right side of the Player Auction Wizard which shows you how much extra coins you gain by getting back the Transfer fee and the value of the cards. For this 100k order you see, we listed the cards for a total of 135500 coins. The 35500 coins are coming from the sum of transfer fee (6775) and the minimum value of the cards (28850) making it a total of 135500, while the coin gain after the transfers is 100k.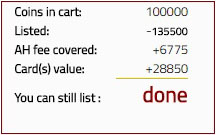 Once a green button appears telling you, you are good to go you can proceed to the next page where you can select the payment method you prefer the most. On that button you will also find how much coins you will receive by the end of the delivery. When the payment cleares and no additional verification is required your order will be completed within 10 minutes.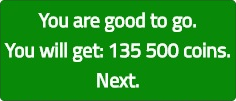 Using our Player Auction Wizard v3 is the safest way to transfer FIFA 18 coins.
How it works
Sell to us
Sell your items with a few easy steps and get paid in MuleCredits immedately. Credits can be cashed out or spent in our shop.