World Cup Mode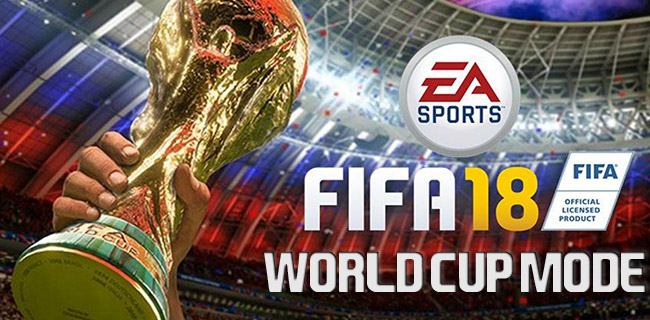 The FIFA 18 World Cup Mode is here! In this post, we're going to be taking a look at 5 Reasons Why You Should Play The FIFA 18 World Cup Mode.
1. It's FREE!
The first, and probably the biggest reason why you should play the new mode is because it's free. Completely free! All you need to do is download the latest updates for FIFA 18. You don't need to pay anything extra or download anything from the store on your console.
As this is an add on of a pre existing game mode, you will also have access to coins which you have made in the original Ultimate Team if you choose to play the Ultimate Team for the FIFA 18 World Cup mode.
2. New Content
At this point in FIFA, a lot of us have already built our dream teams and completed all the Squad Building Challenges that we want to complete and as a result, there's not really that much to do in FIFA at this point. However, with the World Cup update, we now have more incentive to play the game.
New Icons, Squad Building Challenges, Player Faces and all new ratings for the cards gives an up to date refresh of the already popular Ultimate Team mode. The good thing is, as mentioned earlier, your coins actually transfer over from your standard Ultimate Team and this means that you will have thousands of coins to spend on packs to get the best players in the new mode.
3. Updated Gameplay
In the World Cup mode you'll access to all new gameplay which is an improvement over what we have in the standard Ultimate Team at the moment.
The players are more responsive, the passing is better and overall, it's an improvement to what we have had so far this year in FIFA 18.
4. Completely Authentic
One area that lacks in FIFA is the lack of licensing in some particular areas. For example with the Champions League. The Champions League licensing is currently with PES and as a result, it really doesn't feel all too special when you get in the Champions League in career mode.
However, this is not the case for the World Cup. EA actually have the full licensing for the tournament and this creates an immersive atmosphere which is not only engaging, but keeps you entertained all the way through. Authentic team kits and badges, official game balls, country specific banners and even the World Cup trophy all feature in this mode to create the best experience possible.
5. Brand New Features
Even if you're not all that keen on playing Ultimate Team, there are a number of new modes available to keep you entertained, all with a brand new World Cup twist. Why not try the all new tournament mode specifically for the World Cup? And better yet, you can include nations that haven't even qualified for the tournament such as Holland and Italy.
Play the new World Cup mode today. Make sure to buy coins from us to ensure you build the best team possible!
Back to Wiki
You may like...