Division Rivals in FIFA 19

Over the years, divisions has constantly been one aspect of Ultimate Team that has constantly been ignored. Year after year, the community have voiced their disconcert with the current emphasis on FUT champions. Finally, after years of asking, EA have finally listened and have recently announced a brand new take on the current divisions game mode.
What is Division Rivals in FIFA 19?
As mentioned, this year EA have decided to remove the current Online Divisions and replace it with Division Rivals in FIFA 19. Division Rivals replaces the previous mode, so you won't see Online Divisions in FIFA 19. Division Rivals is designed to appeal to a mid-tier level of player and offer an alternative to the ever popular gamemode, FUT Champions.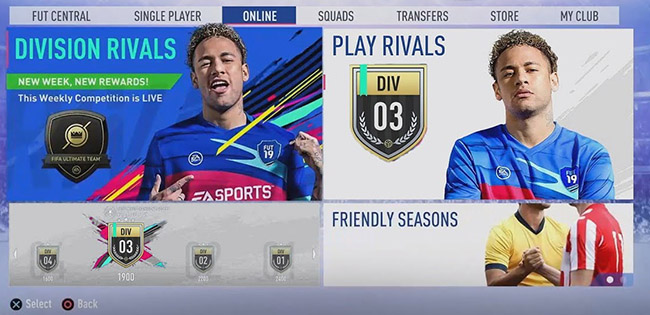 The concept is simple, you initially play a number of placement matches against random people which are used to determine your skill ranking. You're then placed into one of 10 divisions, with progression tied to your skill rating. If you've ever played any games based on an ELO ranking system, such as League of Legends, you'll already have a solid idea of how this works.
Each week, you'll compete in a weekly competition against players within your division for ranking and then in the end, for prizes. This is very similar to the already popular Squad Battles mode in FIFA. Once you've played throughout the week, you'll be assigned a rank, dependent on your rank in your division, you'll earn rewards that you can pick from.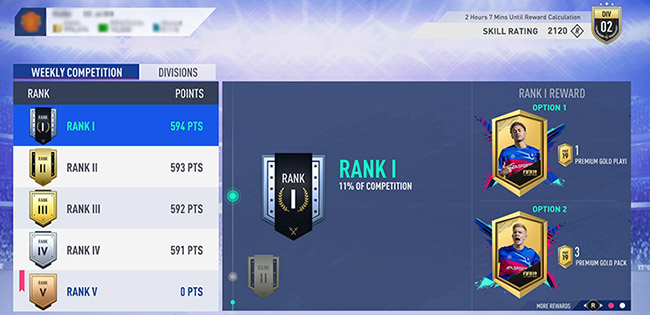 What are Champion Points?
In addition to the above, you'll also gain another set of points as the you progress through Division Rivals. You'll also gain Champions Points. Champion Points are used to qualify for the Weekend League and this will actually replace the Daily Knockout tournament. As you progress through seasons, you'll passively collect these points so you won't have to face the headache that previously was the Daily Knockout.
FIFA creative director Matt Prior said: "based on the feedback we heard from our community, some people found it a bit of a grind to get into the Weekend League," this is certainly a step in the right direction from EA.
It's important to note that Champions Points do stack. So, if you earn enough points one week to compete in the upcoming Weekend League, but for whatever reason you can't actually play FIFA 19 that weekend, you can store them and use them when you have the time to devote to playing. It's worth noting however, that qualification into the Weekend League doesn't stack, only the points, meaning that, you can't have two tokens for the Weekend League.
In summary, there are three points you progress in Rivals. After each match you get a recap of your weekly score, which is tied to your weekly ranking rewards, your skill rating, which is tied to your Division Rivals division, and your Champions Points, which are tied to your qualification for the Weekend League. In addition to choosing your pack rewards for each week, Champion Points will also be granted as a reward depending on your performance that week in Division Rivals. Overall, we can't wait for FIFA 19. When it releases, you can buy FIFA 19 coins at us on a discount price, which will be the cheapest FIFA 19 coins you can find around the market.
Back to Wiki
You may like...