A brand new game mode this year in FIFA Ultimate Team is FUT Champions. FUT Champions is a weekend tournament where players compete for in-game rewards and a spot on the FIFA leaderboards.
To qualify for the weekend league you must win the Daily Knockout Tournament to earn a spot to play on the weekend league, and dynamic squad entry requirements and unique rewards keeps the Daily Knockout Tournament fresh. The Daily Knockout Tournament was introduced as a creative alternative to FUT online tournaments in previous FIFA's Players who are in division 1 for seasons on ultimate team automatically qualify for FUT Champions, and players who have reached gold tier or higher in the previous weekend league automatically qualify.
When FUT Champions begins on Friday, players compete to win as many games as possible out of 40 through out the weekend. The more games you win the better rewards you get. The rewards scale starts at Bronze 3 and goes all the way up to Elite 1. To obtain Bronze 3 a player must win 1 out of the 40 games and the rewards are 1k coins and 2 gold packs.
FIFA 19
100k FIFA 19 coins with Player Auction method More details
FIFA 19
200k FIFA 19 coins with Player Auction method More details
FIFA 19
300k FIFA 19 coins with Player Auction method More details
To obtain Elite 1 a players must win 34 or more games out of the 40 and the rewards include 125k coins, 2 premium TOTW packs, 2 jumbo rare player packs, and automatic qualification for the next weekend league. Players who manage to rank within the top 100 players in FUT Champions qualify for amazing monthly rewards. The best of the best players in FUT Champions may qualify for real life tournaments to compete for prizes at the FUT Championship series and the FIFA Interactive World Cup.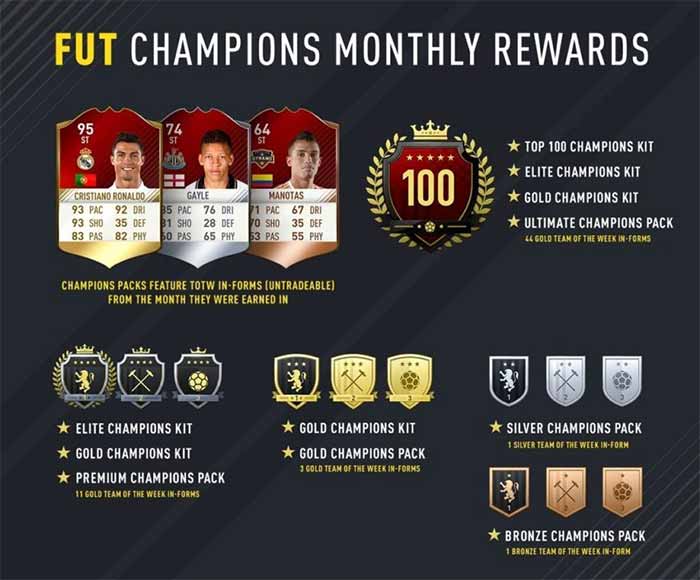 To excel in the weekend league it is important to build a strong team in a formation that you are comfortable with, and with players you are comfortable using. If you need cheap FIFA coins to build your ideal team visit our shop! It is also important to remain composed and focused and to not get frustrated while you're playing. Frustration can cause you to make simple mistakes which may lead to a potential loss. If you do lose a game it is critical to accept it and move on to avoid falling into a losing streak, which hinders your chances of getting better rewards.
If you want to practice in-game skills such as passing, shooting, and dribbling I suggest you check out the skill games that can be found on the main menu of Fifa. For the shooting drills, if you are looking to practice your finishing I suggest you play the advanced shooting skill challenge since it offers a variety of different scenarios for players to practice their finishing. I would also recommend checking out the free kick and penalty drills if you are looking to improve your game in those areas. For passing I'd recommend going through all of the different categories and drills since they will all improve your gameplay. Finally for dribbling I recommend trying all of the different drills since they all improve your dribbling by putting you through multiple different scenarios.
How it works
Sell to us
Sell your items with a few easy steps and get paid in MuleCredits immedately. Credits can be cashed out or spent in our shop.