With the new year upon us, we can start to look forward to some of the new Promotional Events (Promo Events) on their way to FUT 21 Ultimate Team. A few years ago, EA introduced a new Promo Event called Future Stars into Ultimate Team and this Promo Event is just around the corner.
This Promo Event focuses primarily on up and coming talent in the real-life game across the globe. In this post, Mule Factory will explain the exciting event and share with you the key details that you need to know.

What are Future Stars in FUT 21?

Future Stars has been in Ultimate Team since FUT 19 when it was first introduced. The Promo Event focuses on younger hot prospects that haven't yet established themselves as stars on the world stage, as a result, these players typically receive upgraded Player Items that can be attained through Packs, Objectives, and Squad Building Challenges (SBCs).
players typically receive huge boosts to their attributes to reflect potential future ratings providing that these players reach their project potential. Future Stars is usually one of the most popular promotions of the last couple of years due to the fact that previously underused players receive huge stat increases.
This is typically one of the only Promo Events that can drastically change the META that we see throughout the cycle of Ultimate Team.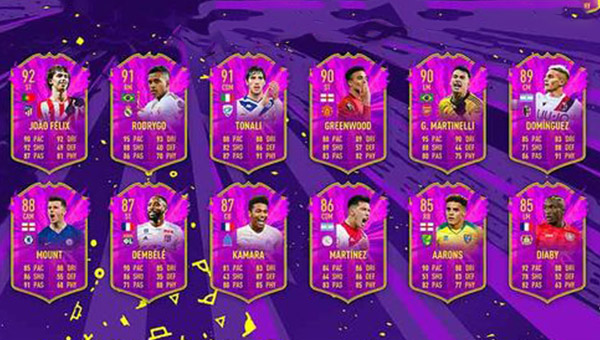 This Promo Event completely eradicates some of the players that we see used constantly throughout the year, for example, we could see a new Centre Back released into the game that could see the end of the persistent use of Raphael Varane or the release of a new Left Back to remove Ferland Mendy from the FUT 21 META.

These new Objectives were time-limited Objectives that allowed players to earn multiple versions of a Future Stars Item. The first Objectives enabled the player to earn a base version of a Player that could then be used to complete other Objectives to get an upgraded version of that player.
In the example below, players started off with 77 rated Zaniolo, obtained by completing an Objective. To obtain the higher-rated 81 version, players had to complete Objectives with the 77 rated version. After completing all the Objectives in the group, players were rewarded with the highest rated Objective card as the overall group reward.
Last year in FUT 21, EA released four Future Stars Academy objectives, featuring Zaniolo, Daniel James, Osimhen, and Odegaard.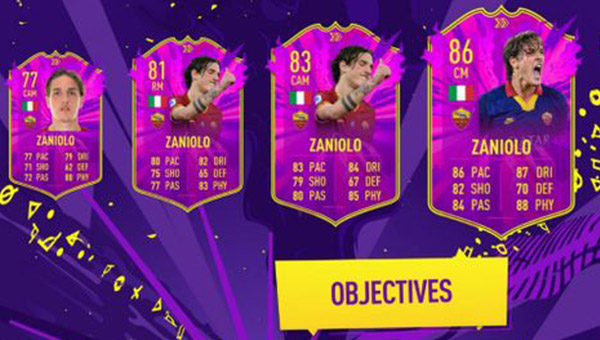 The popular Promo Event is typically released towards the end of January, however, due to the delayed release of Team of the Year (TOTY) this year, we could see Future Stars released later on in the year to match the delayed release of Promo Events in FUT 21 Ultimate Team.

When are Future Stars in FUT 21?
As mentioned, this Promo Event was released in FUT 20 at the end of January. However, all Promo Events have been slightly delayed due to the delayed release of FUT 21. As a result, Future Stars may be released toward the start of February.

What is the Future Stars team?
At this stage, EA has not alluded to the Future Stars event even being featured within FUT 21 Ultimate Team. However, EA typically follows a similar calendar every year. As a result, we can assume that Future Stars will be included in FUT 21.
EA has not officially announced the Future Stars team, however, as this Promo Event is based on players who have high potential, we can assume some of the most talked-about young players in the world will be featured as part of the Future Stars. Below we've compiled a list of some players that could be featured.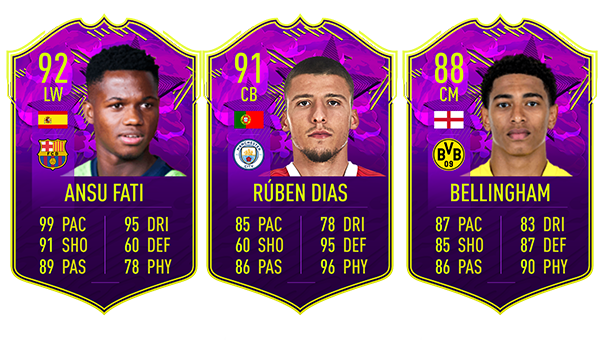 Ansu Fati from Barcelona is one player who has received a Player of the Month Item already in FUT 21. In addition, he has also received an Inform Item based on his real-life performance. Due to the popularity of all of his cards already within FUT 21, it's hard to look past Ansu Fati as a perfect addition to this Promo Event.
With Future Stars directly following, your club may be lacking coins, so, as a result, make sure to check out MuleFactory for the cheapest coins on the internet. We are one of the safest coin sellers in the market with a no-risk ban-proof system that will be able to deliver your coins in less than 24 hours. Make sure to check out our site for the best FUT 21 coin prices.