With the Team of the Year all but a distant memory, we can start to look forward to some of the new Promotional Events (Promo Events) on their way to FUT 21 Ultimate Team. A few years ago, EA introduced a new Promo Event called Shapeshifters into Ultimate Team and this Promo Event is due to start towards the start of March.
This Promo Event focuses primarily on players who have changed positions, for example, in the past, we've seen players like Marcelo sporting a new position as a Center Defensive Midfielder. In this post, Mule Factory will explain this new Promo Event and share with you the key details that you need to know.

What are Shapeshifters in FUT 21?
FUTure Stars has been in Ultimate Team since FUT 20 when it was first introduced. The Promo Event focuses on players who have been position changed. In the past, we've seen players such as a Center Back Kante amongst other popular players in Ultimate Team. These players typically receive upgraded Player Items that can be attained through Packs, Objectives, and Squad Building Challenges (SBCs), these new Items have been position changed to a position that is often unattainable with Consumables and receive upgraded stats.
Shapeshifter Bartra was a new ST Player Item that was released into Objectives. This Item was attainable by completing 5 Objectives, once all were complete, players were rewarded with this new Item.
In addition to Bartra, EA released Marcos Acuna who was a Center Defensive Midfielder who had been changed from a Left Back.
As mentioned, Shapeshifter Items were attainable through Packs, Objectives and SBCs. EA released a number of exciting SBCs. Denis Zakaria, Lucas Olaza, Henrikh Mkhitaryan, and Gary Mackay-Steven were all available in Squad Building Challenges.
What is the Shapeshifters team?
At this stage, EA has not alluded to the Shapeshifters event being featured within FUT 21 Ultimate Team. However, EA typically follows a similar calendar every year. As a result, we can assume that Shapeshifters will be included in FUT 21.
EA has not officially announced the FUTure Stars team, however, as this Promo Event is based on players who are position changed, we can assume some of the most used players within FUT 21 will be placed into new positions to help shift the META whilst also still being able to sell packs. Below we've compiled a list of some players that could be featured.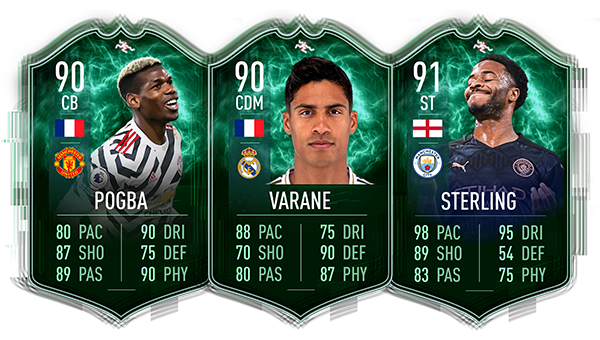 Raphael Varane from Real Madrid is the most used player in FUT 21 Ultimate Team. At the time of writing this article, players around the globe have played just shy of 22 million games with this player. A new Center Defensive Midfielder Item would suit this player down to the ground. He would be a good link for all teams hailing from France and Real Madrid.
Raheem Sterling is another player who is heavily used within FUT 21. However, his real-life performance hasn't garnered him many Items within Ultimate Team. The Item could be a Striker Item which may suit Sterling's playstyle rather than him playing as a Wide Midfielder.

Finally, Paul Pogba is one of the most sought after players within FUT 21 Ultimate Team. Changing this Item to a Central Defender could see a whole host of new teams created within FUT 21.
With Shapeshifters directly following a number of popular Promo Events, your club may be lacking coins, so, as a result, make sure to check out MuleFactory for the cheapest coins on the internet. We are one of the safest coin sellers in the market with a no-risk ban-proof system that will be able to deliver your coins in less than 24 hours. Make sure to check out our site for the best FUT 21 coin prices.