Now that FIFA 23 has been out for a number of weeks, players across the globe have been able to find the best players and tactics and as a result, the level of play amongst the community has become extremely competitive.
So, in this blog post, MuleFactory will be providing you with the information that you need to build the best squad in FIFA. We'll be explaining the basics of FIFA 23 Ultimate Team and all of the key information that you'll need to succeed on the pitch.
FIFA 23 Ultimate Team Items Explained
In FIFA, the players are called FIFA Player Items and can be obtained both through FIFA Packs and the FIFA 23 Transfer Market. These Player Items will make up your starting eleven as you navigate through the world of Ultimate Team.
FIFA 23 Player Items can be broken down into 4 different categories depending on their Quality, these being Bronze, Silver, Gold and Special. All of the Items will also have a certain rarity of Rare or Common. The Special Player Items of FIFA 23 Ultimate Team covers a broad range of different Items, but we'll look at this in a bit more detail a bit later on.
Building Your FIFA 23 Squad
Now that you understand the different versions of Player Items in FIFA, it's time to build your FIFA Squad. As mentioned, Player Items can be attained by two means, through FIFA Packs or through buying the cards from the FIFA 23 Transfer Market. We'd recommend that you purely focus on building your squad with Items obtained from the Transfer Market as if you buy FIFA Packs to get your players, you won't know what players that you will receive.
One important thing to note before buying your players, however, is something called Chemistry. Regardless of the Rating of your players, they will struggle to play together if the Chemistry of your team is low. Chemistry is an in-game feature that determines how well your players play together. Without Chemistry, you could go and build a team with all of the highest-rated players in, which wouldn't be fair as it would allow for players to pay their way to the best FIFA squad.
There are two elements to consider, team Chemistry and individual Chemistry. Ideally, you'll want a chemistry rating of around 100 for your whole team, and individual chemistry of no less than 7 for each player.
The below image explains everything that you need to know about Chemistry in FIFA 232. Click to expand.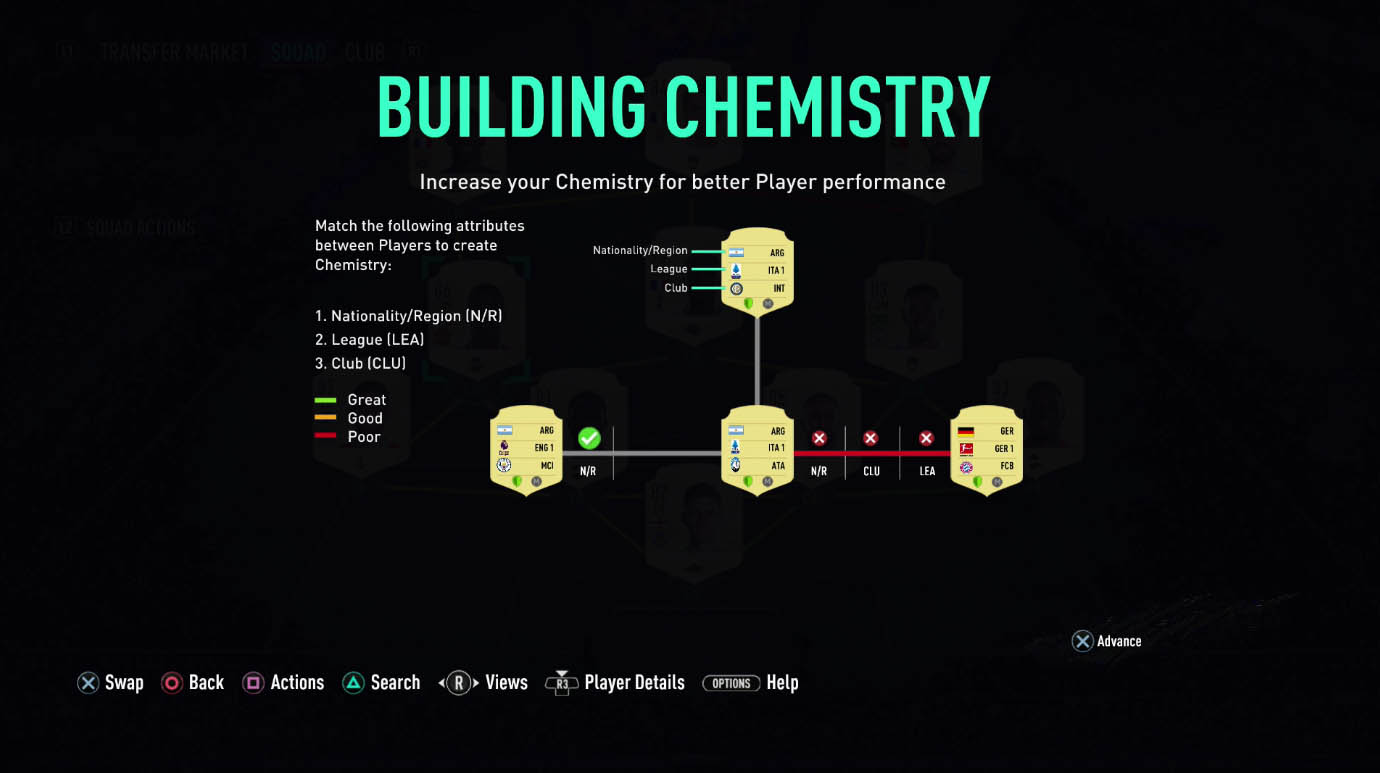 Now that you've grasped the idea of Chemistry, you can start to build your team. Ideally, you'll want to focus on a specific league or nation as this will allow you to have good Chemistry throughout your team.
Finding the right players for your squad is an issue that every FIFA player faces. In the early stages, you should focus on building a squad, and then you should make changes later on rather than buying the best players you can possibly afford because some players may have good individual Stats on their Player Item, however, they may perform poorly in-game.
When choosing your formation, you should ideally look for a formation that is well balanced overall as this will allow you to learn the game and allow you to make better decisions about your team at a later date. Formations such as the 4-4-2, the 4-3-3, and the 4-1-2-1-2(2) are all well balanced and offer different play styles from one another, so you'll be able to find the formation that's right for you. We've created more in-depth tutorials on our Wiki for some of these formations, so make sure to check them out. You shouldn't worry too much about performing well in your first games in FIFA Ultimate Team as there is always an opportunity for you to get better.
After you've played your first couple of games, you'll be able to identify areas that need improvement, and then you can venture back onto the Transfer Market to buy some improvements for your squad.
When buying your team, you'll need to budget yourself accordingly. In FIFA, Goalkeepers are all a bit poor this year and as this is a position that is mostly controlled by the AI, you really shouldn't waste too many of your FIFA Coins in this position.
When choosing these players, make sure to take a look at their detailed stats by pressing your right analogue stick in. When you do this, it will show you what the Item's Stats are. If you choose your players just off of their face Stats, you may be left disappointed when you go into a game. You'll also be able to look at their Skill Moves and Weak Foot by doing this, which is also positive when choosing your key players. Don't forget to check the Traits tab to see what other things your players can offer you. Click on the image to expand.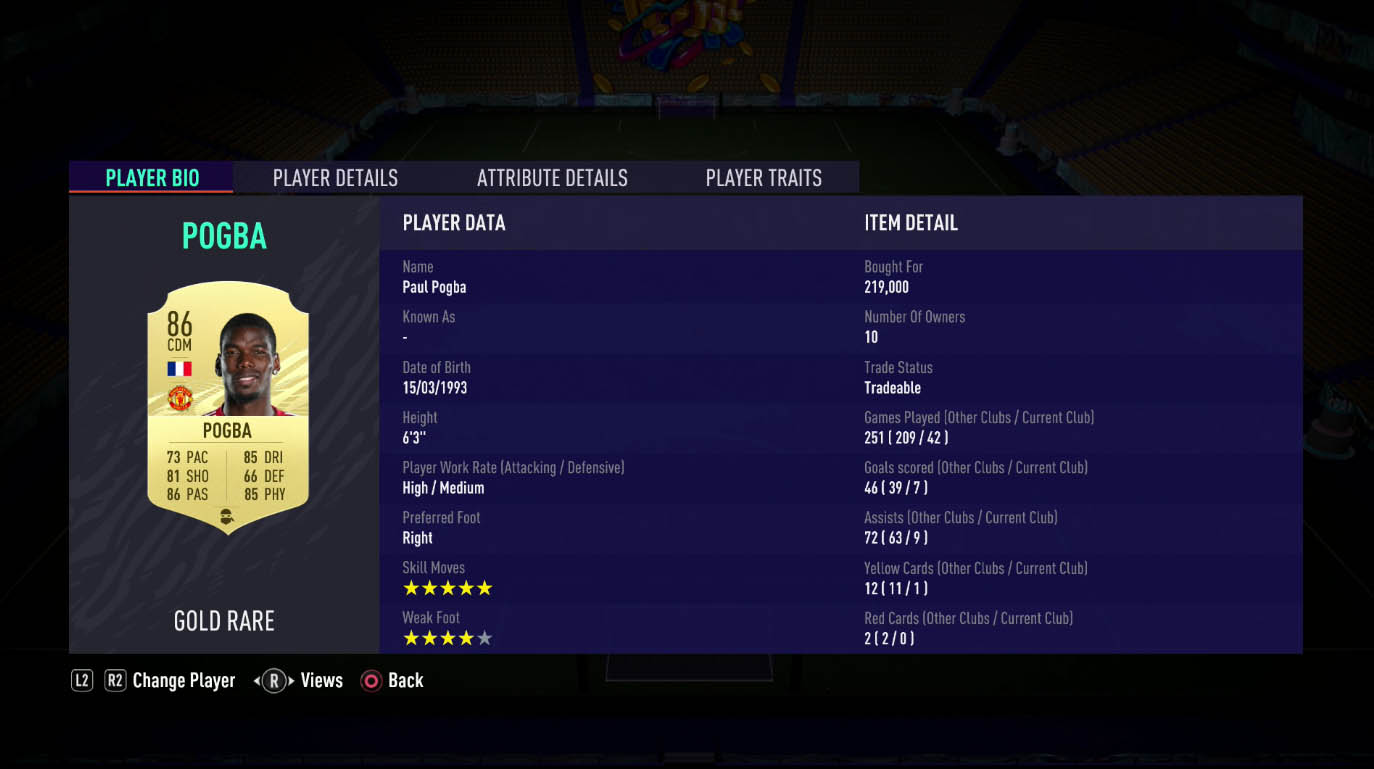 As mentioned, just because you have the best players in FIFA 23 Ultimate Team, that doesn't mean that you're always going to win. However, it definitely helps to have the best players. Make sure to head over to our site and pick up the cheapest FIFA 23 coins.