In this huge picture, you can find the complete map of Gielinor in Runescape. It contains cities, islands, kingdoms, mountains, mines and rivers. There are also some locations that are unavailable for members playing for free. To access this map in-game, search for the World Map button on your Minimap.
Runescape Members-only Map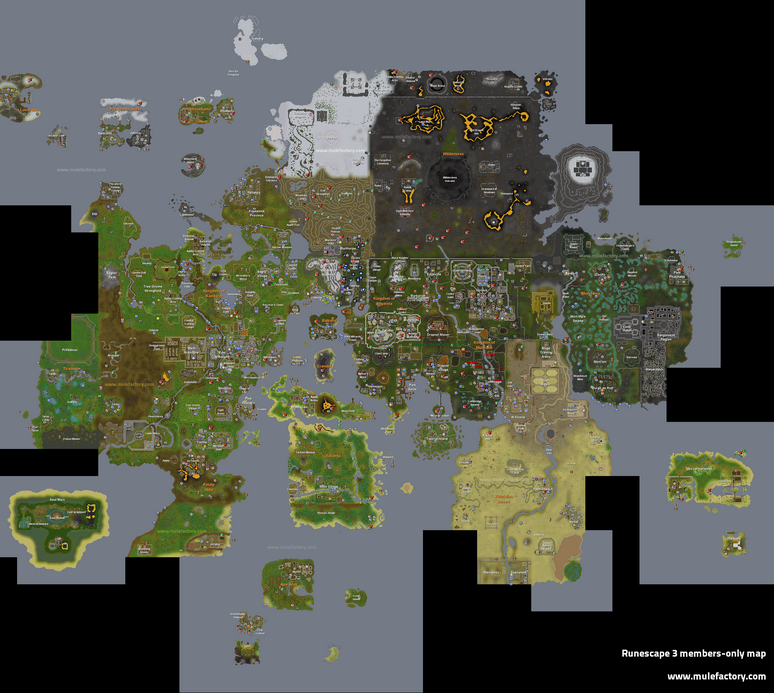 Click on the picture to open it in original size in new tab.
Runescape Members-only locations

Ape Atoll
Miscellania
Adougne
Mort Myre Swamp
Bandit Camp
Mort'ton
Barrows
Mos Le'Harmless
Bloodsplatter Isle
Mountain Camp
Braindeath Island
Nardah
Burgh de Rott
Neitiznot
Cairn Isle
Oo'glog
Canifis
Otot
Catherby
Pirates' Cove
Cosmic Place
Pirates' Hideout
Crash Island
Piscatoris Fishing Colony
Darkmeyer
Pollnivneach
Death Plateau
Port Khazard
Digsite
Port Phasmatys
Dorgesh-Kaan
Prifddinas
Dragontooth Island
Primordial Realm
Dream World
Puro-Puro
Eagle's Peak
Rellekka
Eastbridge
Rock Island Prison
Elf Camp
Rogues' Castle
Enchanted Valley
Saranthium
Entrana
Scorpion Pit
Etceteria
Seers' Village
Fisher Realm
Shilo Village
Fishing Platform
Ship Yard
Fremennik Spiritual Realm
Silvarea
Freneskae
Sophanem
Ghorrock
Spirit Plane
Glacor Cave
Spirit Realm
God Wars Dungeon
Tai Bwo Wannai
Gorak Plane
Tarddiad
Gu'Tanoth
The Abyss
Harmony Island
The Void
Haunted Woods
Tree Gnome Stronghold
Hemenster
Tree Gnome Village
Ice Path
Troll Stronghold
Iceberg
Trollheim
Infernal Dimensions
Trollweiss Mountain
Isafdar
TzHaar City
Jatizso
Tyras Camp
Jiggig
Ullek
Kanatah
Uzer
Kedagrim
Void Knights' Outpost
Kethsi
Waterbirth Island
Kharazi Jungle
Wilderness Agility Course
Kharyrll
Witchaven
Killetwatt Plane
Yanille
Lighthouse
Yu'biusk
Lletya
Zanaris
Lunar Isle
Mage Arena
Mage Arena
Meiyerditch
Runescape Free to Play Map
Click on the picture to open it in original size in new tab.
Runescape Free to Play locations

Bonde Farm
Land of Snow
Bone Yard
Lassar
Botany Bay
Lava Maze
Burthorpe
Lumbridge
Carrallangar
Mudskipper Point
Crandor
Musa POint
Daemonheim
Paddewwa
Dareeyak
Port Sarim
Dark Warriors' Fortress
Rimmington
Draynor Village
Rune Essence Mine
Dwarven Mine
ScapeRune
Edgeville
Spider Realm
Falador
Taverley
Goblin Village
Varrock
Gunnarsgrunn
Wilderness Volcano
How it works
Sell to us
Sell your items with a few easy steps and get paid in MuleCredits immedately. Credits can be cashed out or spent in our shop.
More articles on this topic