Throughout FIFA, there are a number of different ways that you can play. However, one formation has become the META within EAFC24 Ultimate Team as time has progressed throughout the year. The 5-3-2 is now the best formation to play in FIFA 24, in this blog post, MuleFactory will be providing you with the most effective tactics that you can use right now in FIFA.
5-3-2 Overview
The 5-3-2 whilst on first impression may appear a defensive formation for FIFA, with the right Custom Tactics, this formation can become one of the most powerful formations in the game as it can quite easily overwhelm the opponent with the use of your Wing-Backs, an aspect of which not seen typically from a standard 4 at-the-back formation.
Many FIFA players are currently playing with this formation due to its popularity throughout social media and it's easy to see why. Not only can you overwhelm your opponent on the attack, with the extra personnel in defense, you can assure not to be caught out with any long through balls from your opponent which are usually very effective against other formations in FIFA.
5-3-2 Tactics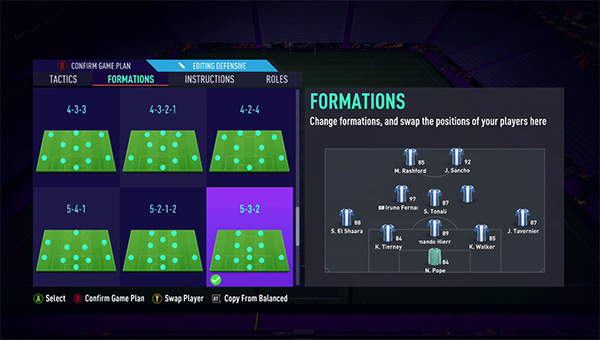 As mentioned in all of our other guides, that you can find on the MuleFactory wiki, Custom Tactics play a vital role in FIFA 24 and if you fail to utilize them, your opponents will be able to take advantage of this. Almost every formation in FIFA should be accompanied by Custom Tactics as without Custom Tactics applied, the formation will not play to its full potential.
Set your Defensive Width to 5 and your Defensive Depth to 5. We don't really need to change the Width of this tactic as this formation is naturally wide utilizing the Left and Right Wing-Back who will offer extra options when moving forward with the ball. We'll leave the Depth on 5 as we will want to first establish our opponent's style of play and it may not be necessary to play a higher or lower depth.
Moving over to your Offense Tactic, you'll want to set your Offense Style to Balanced as a different Offense Style may cause your players to be out of position when you lose possession of the ball. Width should be set to 5 with Players In Box set to 5 also. You should set Corners to 2 so you don't get caught on the Counter-Attack and Free Kicks should also be set to 2. Due to the nature of this formation, you'll usually want to use the wide-areas as much as possible and due to the fact that you are playing 3 players in central positions, it is not necessary to increase the Width of this tactic. This is something we'll come back to later. You should set your Offensive Style to Fast Build Up as you will want to play as direct as possible when in possession, due to the overwhelming nature of the 5-3-2, you don't have to change much about how you move forward with the ball as the AI will naturally make runs for you.
When choosing your players for this formation, you'll ideally want the best that you can afford, if you're struggling for coins, we would recommend using our anti-ban 24/7 coin delivery service by clicking here.
All of your Forward players should consist of high Pace Stat players as well as high Shooting Stat players. These will be the players we aim for once we regain possession in the wide-areas and will predominantly be responsible for putting balls in the back of the net.
5-3-2 Instructions
When using any formation in EAFC24, you must set individual Instructions for your players. Instructions tell your players what to do when defending or attacking are a crucial part of FIFA 21.
Finally, your two Strikers should both have the same Instructions set. Support Runs should be set to Stay Central.
How To Use the 5-3-2 in EAFC24
When playing with the 5-3-2 you should focus on controlling the game. You will have to be patient whilst both in the possession and out of it. If you drag too many players out of position, this formation will crumble as your opponent will be able to pass through your team as the trick with this formation is to pack the middle area.
Make sure to check out MuleFactory for the cheapest coins on the internet. We are one of the safest coin sellers in the market with a no-risk ban-proof system that will be able to deliver your coins in less than 24 hours. Make sure to check out our site for the best FIFA 24 coin prices.