Rise of the Necromancer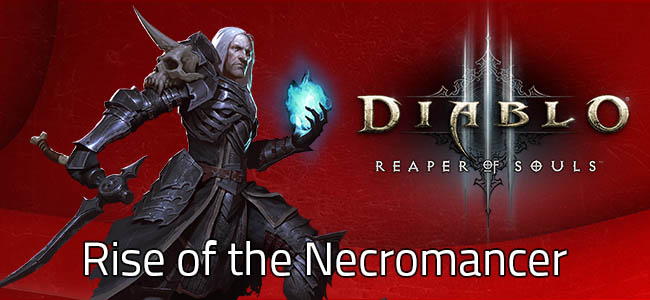 Diablo 3 Rise of the Necromancer has been released. For a price of 14.99 USD you can now create a Necromancer character and relive the experience of playing the most versatile class of Diablo II, now with several tweaks.
The Rise of the Necromancer DLC also comes with several digital goods such as two additional character slots, cosmetic wings, new banner, portrait frame and stash tabs. The Rise of the Necromancer DLC will also be added to Diablo III: Eternal Collection, which includes the base game and Reaper of Souls expansion.
Necromancer is the most expected Diablo 3 class and now has both old abilities reworked and new abilities added. Who would not remember from the good old days of Diablo 2's Necromancers spamming Bone Spears and Poison Novas in endless Baalruns or Skeletons being buffed by different supporting curses, tanking even the trickiest pack of Hell Lords. All of these skills make a return in Diablo 3 along with Bone Armor, Bone Spirit, Golems, Corpse Explosion and Revive.
The skill set of Diablo 3's Necromancer also contains several new spells like Blood Rush which teleports you to a short distance, sacrificing a portion of your health.
Army of the Dead is a heavy AOE spell with raises the dead from the ground and commanding them to pummel the targeted area with extreme damage. With Devour you can easily sustain your resources by consuming corpses and gaining Essence for each corpse consumed.

The Necromancers are perfect for both short and long range killings but their powers lie in their ability to control the dead.
Several items will also be added to fit the needs of your new character. Necromancer will use Scytes as their weapons, and Phylacteries as their off-hand. The new items include class specific sets like Bone of Rathma, Trag'Oul's Avatar, Grace of Inarius and Pestilence Master's Shroud, all of them will be themed around different skill trees, requiring diverse game styles.
2.6.0 will also be released, this will include Challenge Rifts and three new areas – The Shrouded Moors, Temple of the Firstborn and Realms of Fate. If you are still up for crawling even deeper in Diablo's Hell its not time to quit. The upcoming changes and the Necromancer character will contain even more challenges that we were waiting for since Blizzcon 2016.
In our selection you can find wide variety of Diablo 3 items including Primal and Ancient Legendaries. All sets, Unidentified Legendary items – which are also available for purchase in Ancient quality.
We also offer Gear Upgrade services where you can select the items of your character and we will get you the whole package on a cheap price.
The creator and uploader of this video has no connection to Mulefactory.com.
Back to Wiki
You may like...