Finding the right formation in EAFC24 is no simple task. With EA constantly changing the game with every patch, finding the best tactics to succeed in Ultimate Team is no easy task.
However, in this blog post, MuleFactory will be taking a look at one of the best formations in FIFA as well as the winning Custom Tactics to make the formation work, introducing the 4-1-2-1-2(2).

4-1-2-1-2(2) Overview
This year, the 4-1-2-1-2(2) is relatively underrated. Last year, this one of the most popular formations in the game, however, this year, with the improved Defensive AI, more and more people are choosing to go for other formations such as the 4-2-3-1 and the 4-4-2.
The 4-1-2-1-2(2) is an aggressive formation that specifically caters to a fast attacking play-style, so you'll have to be focused on finishing your chances when in possession of the ball.
This formation is particularly useful against opponents who like to keep hold of the ball, the packed midfield ensures that your opponent will struggle to get out of their own half when this formation is used correctly.

4-1-2-1-2(2) Tactics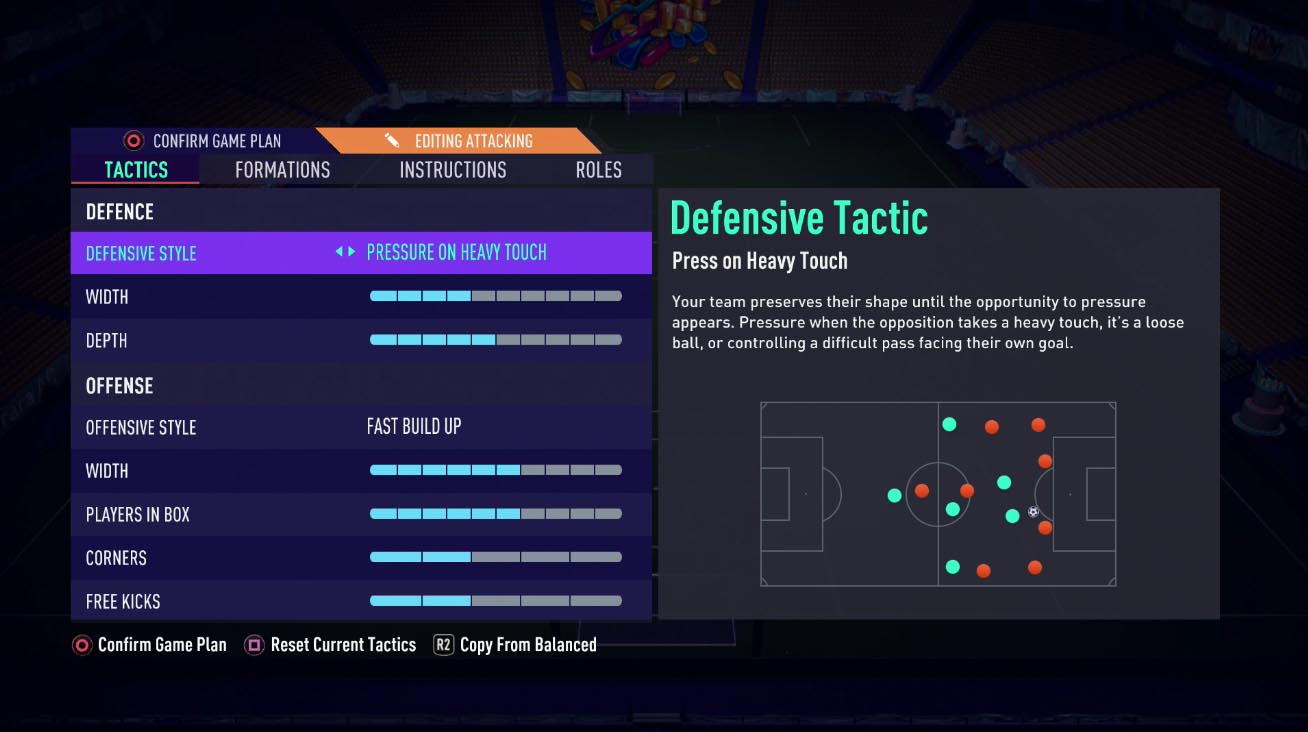 Custom Tactics play a vital role in FIFA 24 and if you fail to utilise them, your opponents will be able to take advantage of this. We'd recommend that you set up 3 different sets of Custom Tactics. One for any time of the game, one when you want to hold onto a lead, and one to regain the lead. In this post, however, we'll show you some general Tactics and you can use them to fit your play-style.
Starting with your Defence Tactic, you'll ideally want to set your Defensive Style to Pressure on Heavy Touch. The reason for this is, is that it will allow you to snatch the ball off of your opponent more easily when you're on the Defence. You're more than welcome to use any Defensive Style that you please, as you should edit this Tactic to suit your play-style, however, we feel as though that this is the most balanced Defensive Style.
Set your Defensive Width to 4 and your Defensive Depth to 5. You can play around with these settings, however, this will allow you to defend efficiently as you will have a solid line and balanced depth across your team.
Moving over to your Offense Tactic, you'll want to set your Offense Style to Fast Build-Up. The plan with this Tactic is to swarm your opponent's half with your players once you're in possession of the ball.
Set your Offense Width to 6 and your Players in Box to 6. Setting both of these to this number will allow you to launch crucial attacks. We set the Width of the team quite high as we want to utilise our full-backs as much as possible in our attack. When your full-backs bomb forward, they will provide you with a number of options when going forward with the ball.

4-1-2-1-2(2) Instructions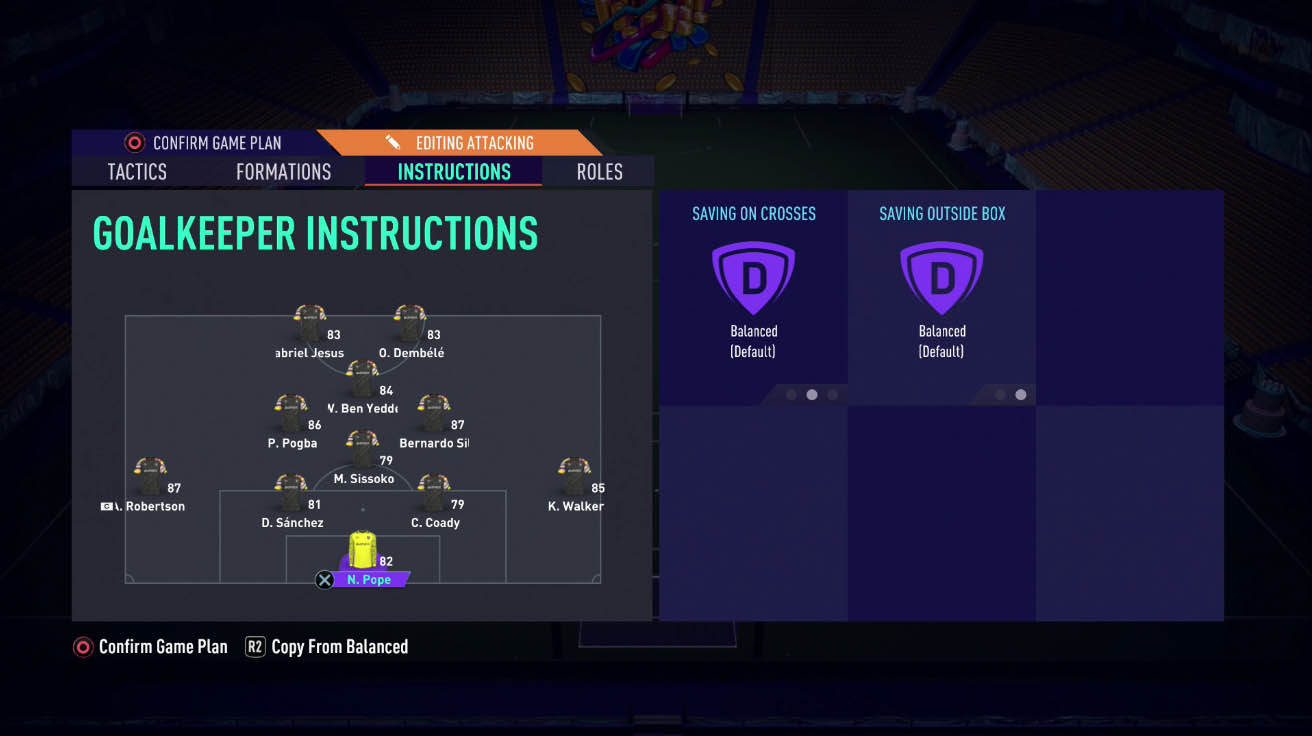 When using this formation, it is crucial that you set individual Instructions on your players. Instructions tell your players what to do when defending or attacking and, once again, are an integral part of FIFA 24.
Finally, you'll want to change the Defensive Position of this player to Cover Center. You can leave Interceptions and Defensive Behaviour as default.
For the other players in the midfield, you can leave all of their Instructions to default besides one player who you should set their Attacking Support to Get Into The Box For a Cross.
Finally, your two Strikers should have their Support Runs and Interceptions set to default, whilst setting one of the pair's Attacking Runs to Get in Behind, and both of their Defensive Support to be set to Stay Forward.

How To Use the 4-1-2-1-2(2) in FIFA 24
This formation will take a couple of games to get used to. With all of your players pushing forward, you can often be susceptible to Counter Attacks, however, once you're confident with this formation, you will score a tremendous amount of goals. When in possession, you should be looking to play short passes on the ground. However, you can also use your full-backs to run at your opponent's defense with a view to whip in a driven cross into the box.
If you are defending against your opponent, you should control your Center Defensive Midfielder as much as possible. Jockey your opponent as much as possible as you may find that they will misplace a pass before they get close to scoring a goal. However, if they do get into a position where scoring looks possible, you should then look to tackle that player using any player from your back-line.
It is important to spend wisely on your team, however, it is much easier to get wins in FIFA by buying coins. Make sure to check our site for the cheapest EAFC24 coins.