The 4-2-3-1 is one of the most effective tactics within FIFA 24 Ultimate Team. This formation is used by a countless number of pro players and it's easy to see why. The formation provides the perfect balance between defence and attack, once you master the 4-2-3-1, the possibilities are endless.
So, in this blog, MuleFactory will be providing you with a guide on one of the most effective formations within EAFC24 Ultimate Team, the 4-2-3-1.
4-2-3-1 Overview
The 4-2-3-1 is one of the most effective formations in FIFA 24, however, that doesn't mean that you can glide to easy wins within the game. The 4-2-3-1 is the most used formation within FIFA 24 Ultimate Team, the ways that you can use this formation are limitless, however, the 4-2-3-1 is very effective at keeping hold of the ball and defending any attack that your opponent throws your way.
The 4-2-3-1 offers a number of different play-styles and as a result, can be the ideal formation if you're looking for more wins within FIFA Ultimate Team.
4-2-3-1 Tactics
As mentioned in our 4-1-2-1-2(2) Guide, Custom Tactics play a vital role in FIFA and if you fail to utilise them, your opponents will be able to take advantage of this.
You must ensure that you set up 3 different sets of Custom Tactics. One for any time of the game, one when you want to hold onto a lead, and one to regain the lead. The 4-2-3-1 can offer a number of different ways to play FIFA, so you can stick with this formation and just change the Tactics and Instructions at different points of the game. In this guide however, we'll show you some general Tactics as a starting point and then you can expand from there.
Set your Offense Width to 5 and your Players in Box to 5. Setting both of these to this number will allow you to be well-stocked in numbers when moving forward with the ball. We're committing 5 players forward by doing this which will enable you to score a lot of goals past your opponent. We set the Width of the team quite balanced to ensure that we remain in possession of the ball.
When choosing your players for this formation, you'll ideally want the best that you can afford, however, you should prioritise your budget on a top-tier Centre Defensive Midfielder who will act as your Ball Winning Midfielder, think someone like Kante, Sissoko, or Renato Sanches.
Your Center Attacking Midfielders should consist of high Pace Stat players as well as high Passing Stat players.
Finally, your sole striker should also have high Pace and Shooting stats.
4-2-3-1 Instructions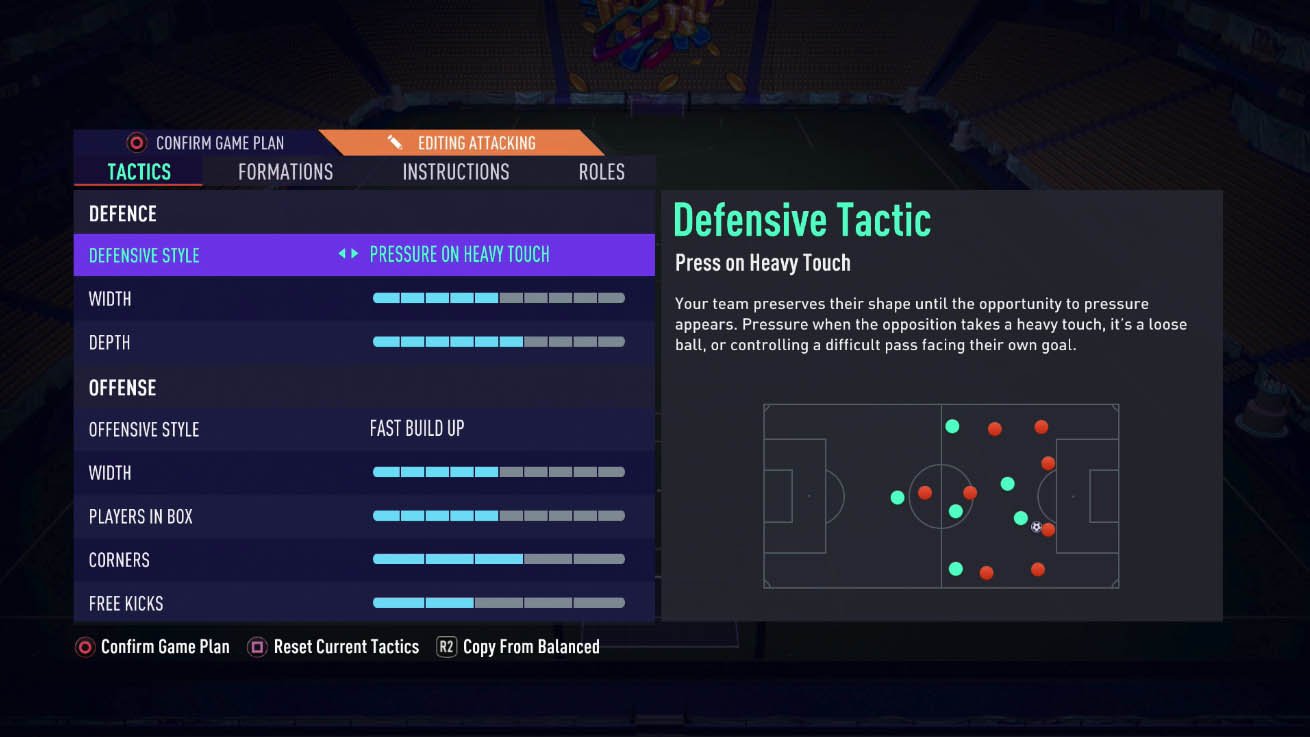 When using this formation, you must set individual Instructions for your players. Instructions tell your players what to do when defending or attacking and are a crucial part of FIFA.
Similar to our 4-4-2 Tactic your backline will consist of a Goalkeeper and 4 Defenders, you'll want to leave your Goalkeeper's Instructions default. Likewise for your two Central Defenders.
For the other players in the midfield, you can leave this as default. Once you play with this formation, you'll be able to play around with these settings as you see fit.
Finally, your Striker should have their Support Runs and Interceptions set to default, whilst setting Attacking Runs to Get in Behind, and Defensive Support to be set to Stay Forward.
How To Use the 4-2-3-1 in FIFA 24
When playing with the 4-2-3-1, you should be looking to keep as much possession of the ball as you can whilst you also continue to move forward with your team once in possession. This formation flourishes when you keep possession of the ball whilst also spreading the ball to different players on your team. The aim of this formation is to keep possession of the ball and wait for your opponent to make a mistake when trying to retrieve the ball.
Utilising your wide Center Attacking Midfielders in this formation is also very effective. As we are opting for midfielders who have a high Pace Stat, using long through balls down the wings can cut your opponents open, once in behind you should look to use skill-moves to force your opponent into a mistake and get the ball into the box.
Overall, the 4-2-3-1 is a very effective formation when used correctly but you will need to invest in some of the best players to string more and more wins together. Make sure to check our site for the cheapest EAFC24 coins.