What's new in Path of Exile - The Fall of Oriath?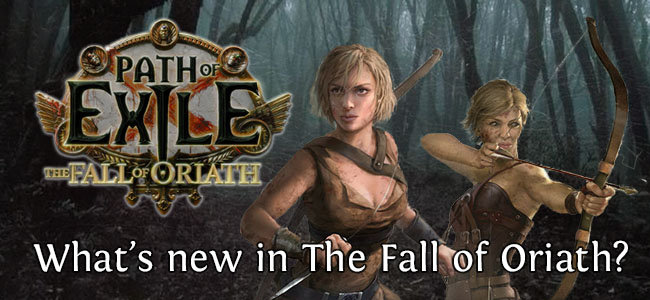 With the release of Path of Exile 3.0 just over the horizon, it is only appropriate that we provide some help and insight as to what we will face in the new expansion. In this article, we will go over the major additions to the game, whether it is about the story or gameplay.
As we were waiting for the announcement of the new expansion, everyone expected a new act to be added to the game, just like in Awakening. Grinding Gear Games, however, thought differently. They announced no less than six new acts to the game, which is a massive effort that has to be applauded. The story brings us to Oriath in Act Five - for those uninitiated in the lore, the place the Exiles have been exiled from -, whereas in acts 6-9, we are returning to Wraeclast again to check out how our actions and the return of the gods affected the landscape.
This also brings about the removal of difficulties altogether, so we will only have to go through the 10 acts once to reach the endgame of Path of Exile. This is a massive change, and overall a great one.Nowadays, the classic normal-nightmare-hell trio of difficulties feels not much more than a fossil from the distant ARPG-past, and mostly just a slog that you want to get over with as soon as possible. The linear story progression will help the game immensely to stay engaging throughout the story.
The story will of course feature new bosses as well, and these bosses are truly most impressive visually. The wall of waves and the water in general during the Brine King fight is simply stunning.
The creator and uploader of this video has no connection to Mulefactory.com.
Kitava is just as grandiose, it is a fight truly fit for killing a god. We will fight some familiar faces as well: Abberath and Doedre being the most notable ones.
The new overarching gameplay system brought in by POE The Fall of Oriath is called the Pantheon system. Killing bosses in the story mode will allow you to unlock their powers, that you will eventually be able to upgrade through the map system. These powers are basically passive defensive bonuses that apply to your character and help you in different ways, allowing you to switch them around depending on the situations you are facing. It is important to note that they are all defensive bonuses -- as opposed to the severe offensive power creep brought about by the Ascendancies, these bonuses are a testament that GGG is trying to combat the "clearspeed metagame" as much as possible.
There is no new expansion without new skill gems. Path of Exile The Fall of Oriath is no exception either, although so far the reveals have been unfortunately scarce. The two active skills showcased are Storm Burst, a ranged lightning spell that looks like the lovechild of Ball Lightning and Flameblast.
The creator and uploader of this video has no connection to Mulefactory.com.
Charged Dash is also worth mentioning which is an admittedly slow movement skill that does lightning damage as well.
There have been more support gems revealed, but they are still subject to change as their power level was glaringly overwhelming when they were first introduced, so we will see how they turn out at release.
Last but not least we have to mention the new Cosmetics system. A brand new way of organizing your cosmetic effects acquired through microtransactions, this feature was planned to be introduced several months ago, but it was pulled back. GGG is planning to release it in 3.0 instead, and it will remove the cluttered and unwieldy MTX tabs altogether, and replace them with a wardrobe that will allow you to use your armor skins and pets without having to re-apply them every time you change a piece of equipment.
As always, you can count on us about the POE currencies, which will be available at us few days after the release, with the same delivery speed and friendly prices. Get your POE orbs on the cheapest price from us!
Back to Wiki
You may like...
Path of Exile

10

Path of Exile Exalted Orb
Path of Exile

100

Path of Exile Orb of Alchemy
Path of Exile

500

Path of Exile Orb of Fusing
Path of Exile

Belly of the Beast

5

-Linked
Path of Exile

Tabula Rasa - Random
Path of Exile

The Restless Ward

5

-linked